Hear What Our Patients Have To Say
You too can get this kind of pain relief!
5 Months After Treatment I can Actually Run
My name is Carrol. I am 75 years old. I am blessed with good health and lots of energy. My husband and I have a small business. We are active in our church, with our children, grandchildren and great grandchildren. In 2015 I went to my Orthopedic Doctor and after x-rays he confirmed degenerative arthritis in both knees. He told me when I couldn't take the pain anymore, he would schedule knee replacement. Months later I saw an article in a Detroit newspaper about Native Stem Cell. Stem cell injections for my arthritic knees. WOW!! Seemed a little "Sy-Fy" for me at the time. I just put the information in the back of my mind. As I started to get more pain in my knees, my walking became unstable and they hurt. Going downstairs one foot on a step, and then the other foot on that step, didn't feel secure. When I needed to get up after gardening, I had to cat walk my way back up. Finally, knew it was decision time. I started to talk with people who had knee replacement and answers only left me with mix feelings. Months after surgery, some were still dealing with knees issues. Some wished they hadn't had replacement surgery. One lady was on antibiotics for the rest of her life from an infection. Some had no complications. Since I know informed decision making is emphasized by health care professionals and insurance companies, I addressed the pros and cons. Weighed my options: Surgery drugs hospital stay, pain, chance of infections (high percentage in hospital stay), physical therapy both knees, and my responsibilities for our business. It became quite obvious knee replacement did not fit our life style. I called Native Stem Cell and set up an appointment for a consultation. Dr. Crawford answered three pages of my questions. We met his staff and felt very comfortable with them. His degrees from Michigan State and University of Michigan, his proactive interest in conservative and non-traditional treatments as alternative to joint replacement and three years of doing stem cell infusion with 98% success spoke volumes for us. The day of my infusion I walked out of Dr. Crawford's office in less than two hours with infusions in both knees. No pain meds, no physical therapy and no life restrictions. At eight weeks I felt I had 75% of my movement back. It is now five moths. I still hold onto railing when I go down stairs, but I can walk one foot after the other. I can actually run. No catwalk to get up. It is time for insurance companies to investigate- with a proactive mindset- the use of advances in alternative procedures in the medical field.* They always tell you to do your research, trust your doctors and hospitals I am writing my insurance company. Knee replacement procedures cost insurance companies $40,000-$60,000. As of this date, Stem Cell infusion costs $10,000 for two knees. We are glad we chose Native Stem Cell for alternative procedure. My husband was especially happy as I remained-self-sufficient, which eliminated him as chief cook, care giver and transportation agent. Dr. Crawford and his staff were kind, thoughtful and professional. When I called them about questions after surgery, they answered them immediately. While it was very expensive, it was worth every penny. * "Thank You For Being Late." AN OPTIMIST'S GUIDE TO THRIVING IN THE AGE OF ACCELERATIONS, Written by New York Times author Thomas L. Friedman.
Carrol T
June 20, 2018
Now Fully Enjoys Travelling Without Any Limitations
I have been bothered by osteoarthritis in my knees for over 15 years. I hve had many treatments over the years including physical therapy, cortisone injections, Supartz injections and a total knee right replacement in July of 2013. In early 2017, my left knee became too painful to walk on, I visited my orthopedic surgeon, Dr. Kevin Crawford, D.O. to discuss the most recent treatments available. I had extensive travel plans in the upcoming months and did not want to face another knee replacement nor did I have the time for the lengthy recover following one. Dr. Crawford explained his work with stem cell therapy in recent years and I was more than interested. On April 19, 2017 I underwent the Native Stem Cell therapy treatment. I found the procedure painless, the "recovery period" was a breeze. I traveled to Europe in late summer and Colorado in early fall; both without any limitations and extensive walking which would not have been possible prior to the therapy. I highly recommend this treatment to anyone suffering similar osteoarthiritis problems.
Sandra G
June 20, 2018
Richard had stem cell injection for his knee on December 6, 2017
Richard & his wife Jane on top of Waynapicchu, the narrow peak that overlooks Machu Picchu
September 16, 2019
We keep our patients doing what they love with ReVivaStem®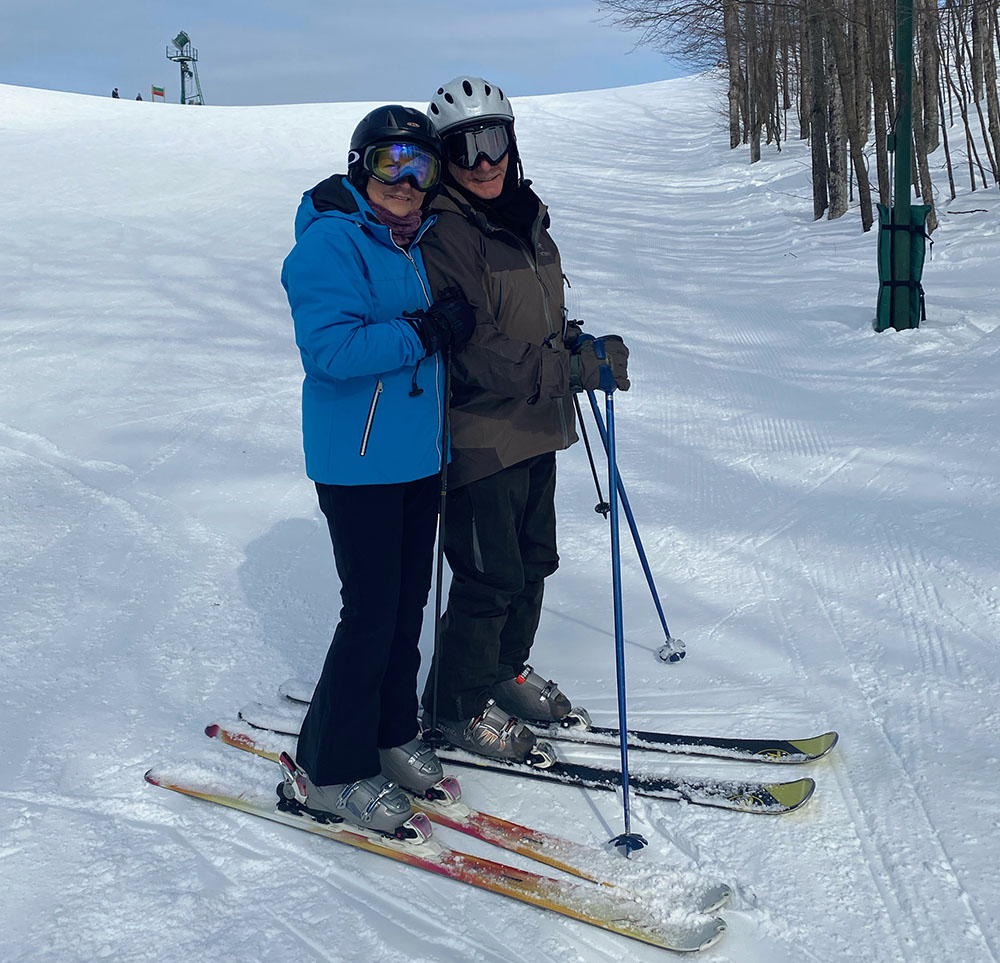 March 16, 2021
Kenneth F.
Dr. Crawford and his team are tremendous. I've suffered with chronic shoulder pain for years. I was told by another Orthopedic Surgeon that my only hope for relief with my issue was a shoulder replacement. I found Dr. Crawford and Native Stem Cell and was very fortunate to do so. He reviewed my MRI and X-Rays and believed that his proprietary ReVivaStem procedure could greatly improve my condition. The procedure was virtually pain free and extremely tolerable. I walked out under my own power and was back to work and normal activities the next day. I am improving by the week and happy to be sleeping through the night and feeling like myself again. Don't be mislead by other providers. Dr. Crawford is an expert in this field. He could have simply did my surgery and replaced the shoulder. My investment after insurance, had I done so, would be greater than the cost to have the injection done and I didn't have to endure any long term and painful physical therapy. I would encourage anyone and everyone living with daily discomfort of the knee, hip or shoulders to invest the time to speak with Dr. Crawford. An outstanding professional and caring surgeon.
Kenneth F.
January 15, 2022